With all of the recent postponing or cancelling of weddings due to an unforeseen virus that has taken our world by storm, I can understand why so many couples are eloping. Elopement can be a cool idea during or outside of a pandemic event!
Here are 7 things that make elopement a cool alternative:
1. No one else but y'all. 
If there is one thing this "stay home, stay safe" act has taught me so far it's to appreciate the personal time with my husband and 3 year old that I have had this past week. So often in today's world we rush from appointment to appointment, activity to activity and rarely slow down to enjoy the little moments, the precious things. If we are being honest traditional weddings sometimes can take away from the heart of the event, THE COUPLE GETTING MARRIED. 

Don't get me wrong big weddings are AWESOME, but there is something appealing about stripping away all the bright lights, decor, people, food, music, and focusing solely, quietly, and intimately on the love of your life standing at full attention with no extra distractions right in front of you. It's simply just y'all on elopement day.
2. Intentional Time 
Many times I have heard people say that weddings are a time to "gather all of your loved ones and friends and share your special moment with everyone". Although everyone is gathered together how much time are you actually getting to spend with each guest. 
For instance, let's pretend that you have 120 guests at your weddings and you wanted to have a 4 minute conversation with each guest that was present, that's 8 HOURS worth of conversations not including your ceremony, dance time, speeches, and more. Elopements can offer you the intentionality between just two people to fully soak up the grandeur of the moment of marriage.
3. Authentically You 
Sometimes weddings can start becoming about so many other things besides what you originally meant them to be about. Aunt So-In-So wants there to be a specific flower in the ceremonial flowers representing Great Grandma Betsy, while your mom insists that the linens be this color and that having shrimp and grits in fancy glasses is a must during the cocktail hour. Details that you don't even find important start being inputted on by outside sources. What started off as a day meant to specially honor the union of you and your forever person is now potentially tainted by the dreams and desires of other people. With an elopement the details are between you and your soon to be spouse. No outside opinions or meticulous details. Just fully and authentically you. 
4. No Drama  
As mentioned above family or friends can cause a little bit of stress or strife on wedding day. Not that they do it intentionally, but they can sometimes insert themselves or make what should be an effortless union of two people in love difficult, political, or about themselves. An example would be that not every family has harmonious family dynamics. Cousin Larry and your Uncle Simon could have a major beef that has lasted 20 years and somehow they pick your wedding day to begin to hash out old personal feelings. Or your dad has gotten remarried and your mom really does not approve or is still hurt over the situation. Interpersonal relationships on wedding days can be both a huge blessing or a hurdle to overcome when it comes to gathering everyone under one roof. Now imagine an elopement where no extra drama clouds your day because no one else is there except two of you.
5. It's an Adventure.
Elopements are adventuresome. Whether it is an elopement in your friend's pretty backyard or at a beautiful location off of our Blue Ridge Parkway the thrill of the adventure is encapsulating. Traditional weddings, although also a form of adventure, tend to be more "material oriented", which is completely fine depending on what is most important to you. It boils down to what do you most value, an experience or the tangible wedding day celebration? Neither is a wrong answer. It is very much so individual. If the average cost of a wedding day is $25k-$35k, then something to consider is what do you invest your time and money into, the experience of an adventure or a huge party celebrating your love.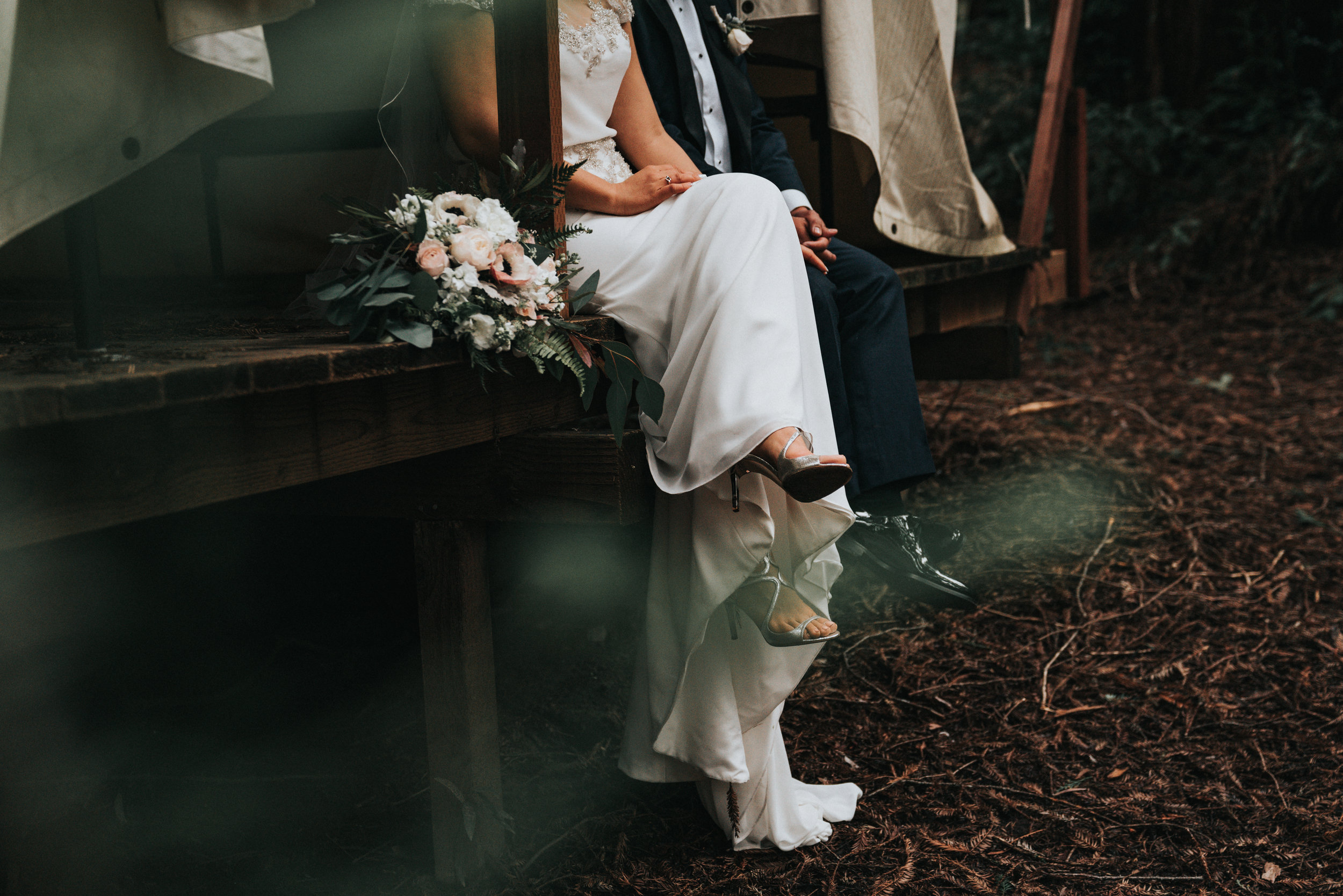 6. Lower Stress Overall 
No surprise here that without the big count down to the largest event you probably will ever plan there is much less stress involved in the day you wed. For all the introverts out there I am sure I am eliciting a big AMEN. If about 25-40% of the nation's population are considered introverts, then imagine the amount of anxiety and stress that can build up to being "the center of attention" on your wedding day. Instead of waking up the morning of your wedding nauseous and from your soon debut stardom in front of 150 guests, it could instead be waking up with butterflies in your tummy from the epic day you have planned for a spectacular hike and "reception" picnic with your honey and soon to be spouse. 
7. Way Less Planning
Without the big wedding day ceremony/reception the need for all the vendors, rentals, gifts, people, invitations, and so on goes away. Instead you may plan to have someone like me (a wedding coordinator) to help you put together a small elopement package including an officiant, a photographer to capture your special day, 2 guests to witness your union, a special location of your choice, and maybe a cake or a champagne toast for afterwards. Much less planning or fuss, but still holding the significance and specialness of the meaning behind why you wanted to get married to begin with.


So whether you are wanting a big wedding day party or a smaller more intimate elopement getaway with your person, both are great options depending on what truly makes you guys happy. If you find yourself relating with these "7 points" above then maybe an elopement is right for you. The Hunt is Over has you covered if you do decide that you want to take the load of a big wedding off your chest and go with a simpler day of "I do". See my elopement package details or reach out to me on my contact page and let's talk about your special day and options!
Follow along for other wedding day ideas or local vendor/venue options on my Instagram or Facebook page.